another Flatshare in Sangenjaya near Shibuya
---
3 Bedrooms Flat in west suburb of Tokyo, Japan. No Agent, No Thanks money.
Thank you for your interest. MinamiMachida flat is NOT available now.
The flat is 66 square meters, 3 bedrooms, kitchen, bath and toilet.
 flat&equipment rent  place&transportation   Contact info
The flat places on the 9th floor in the ten stories building.
About 200 families are living in the big two (connected) buildings. -> picture(53Kbytes)
Two lifts stop at the ground, 3rd, 6th, 9th floor. (So our flat is a floor it stops. Other floors' people have to use stairs after leaving lift.)
This flat permit us to have small pets. (paper work required)
There are three private rooms. (jou is size of a tatami mat, on one-jou one person can lie down roughly.)
rooms
Japanese style room 6 jou, TV aerial socket
4.9 jou (fixed carpet) built-in cupboard(one door is missing) TV aerial socket
4.6 jou (fixed carpet), ->picture(45Kbytes)
This room doesn't have TV aerial socket
lounge 9.2 jou with air conditioner
items
Many appliances, dish, gabage, books and magazines are remained in the flat. I myself have not checked the flat yet so I cannot tell if one is there, work or broken.
lounge 9.2 jou with air conditioner  ->lounge and kitchen picture(45Kbytes)
TV system (29 inch BS TV and S-VHS VCR) in the lounge
Playstation (video game system) with some software
DVD player (Region code is 2, but Europe DVD is not seeable with NTSC TV)
bathroom with tub and shower
lavatory with washlet
kitchen (refrigerator, microwave, gas oven, rice cooker, mixer, tableware) 3.0 jou
automatic washing machine with turnble dryer (drum style)
answering phone with facsimile
vacuum cleaner
veranda (you will see Mt. Fuji on sunny day)
Japanese books and comics
some futon sets
dish
Photos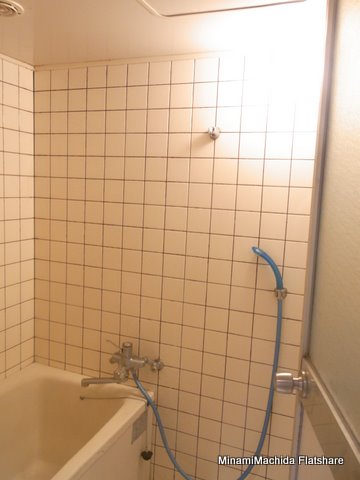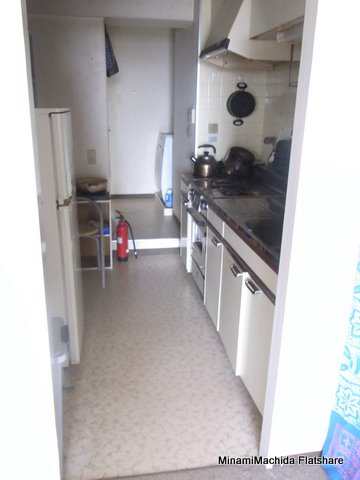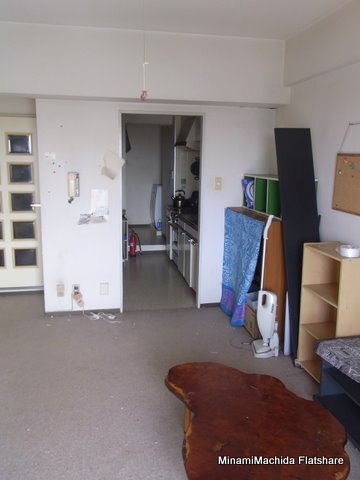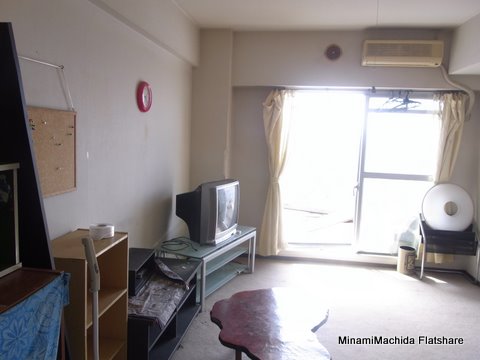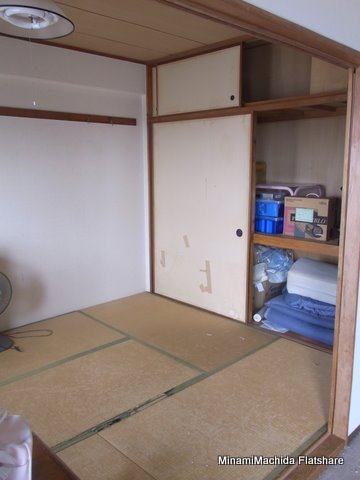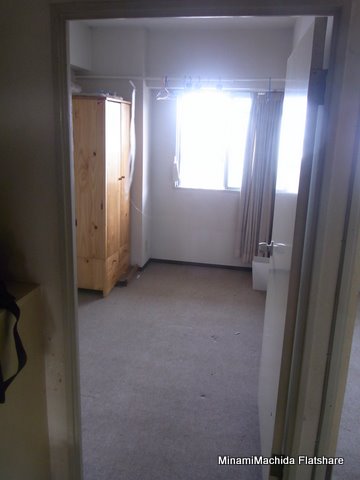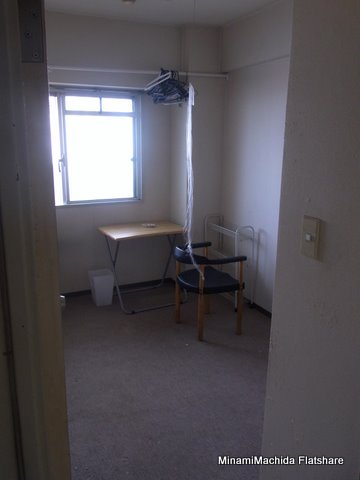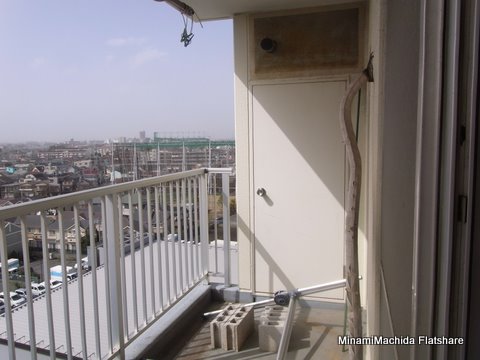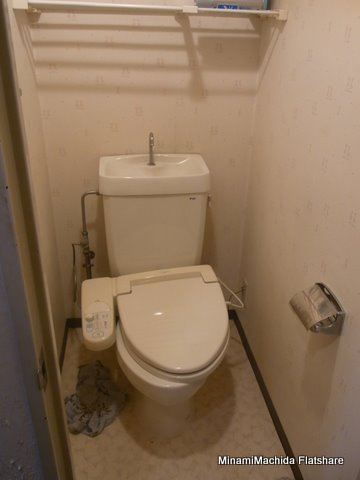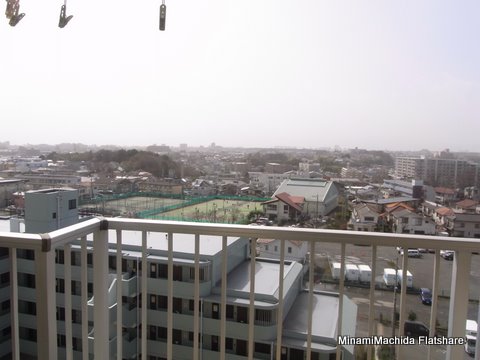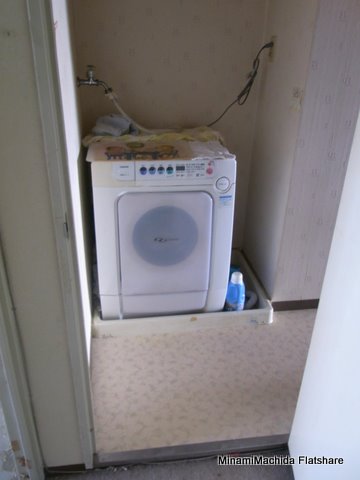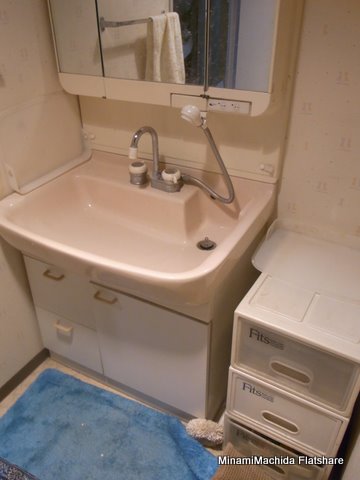 Rent
Thinking under 100,000 yen. Depends on timing, how much you are okay with "as is" renting conditions, etc.
Rent should be paid into the directed bank account until the end of the former month.
One month deposit(will be refunded)
No key money, no agent. It's a very personal business.
Useful link for explaining how the housing in Tokyo is.  here
comparing with other accommodations
Average rent for the same three rooms type flat around here is about 120,000 plus 10,000 yen care taker fee, and you need aprox. 6 month of rent initially, 3 month of which never return. So I guess (partially)furnished 100,000 yen per month without thanks money is fairly good.

Let me show you how much it takes if you rent another 3BR in MinamiMachida.

In Japan,rooms are usually unfurnished, which means you need to purchase a lot after moving in.

Monthly rent is, say 120,000 yen, 2-months thanks money, 2-month deposit, plus 1 month agent fee. It means you need at most 6 times of rent at the beginning. Thanks money never returns. Landlord requires you to make 2 years contract.

Guarantor thing, which is also common in Japan, I do not like it, too. I have not decided how to handle it. But it depends on how I can be convinced.

The nearest station is Minami-Machida
(Tokyu Den'en-Toshi line, 35 min by changing to express or 45 min by local from Shibuya)
 
Minami-Machida 10 min by walk (Tokyu Den'en-Toshi line)
six 24 hour convenience stores within 10 mins walk
Tsuruma park with tennis court
Grandberry mall (outlet mall)
Calfour (spell?) French supermarket
Suzukakedai 14 min by walk (Tokyu Den'en-Toshi line)
quiet residential area which is seen as comparatively decent
Naruse (JR Yokohama line)
2 km (30 min walk)
Banks, supermarkets, restaurants, shops
public sport gym. (100 yen for 80 minutes)
Machida (JR Yokohama line, Odakyu line)
4.5 km
Bicycle 20 (min)
Bus 15-45 (min) 210 (yen)   time depends on jam
Train 10-20 (min) 290 (yen)

city centre, including foreigners' registration, library,
high street and several department stores
By Train
place
time
(min)
number
of
change
single
fare
(yen)
description
Sagami-Ono
10-20
1
300?
another shopping town in the area
Aobadai
10
0
160
central town along the west part of Tokyu Den'enToshi line. many banks' branches, department store, schools
ShinYokohama
20-25
1
350
The second stop of Shinkansen (bullet train) from Tokyo 
Big business town with hotels and shopping stores
Yokohama
30-40
1or2
430
Port city. Centre of the Yokohama city where 4 million people lives
Shibuya
36-46
0
300
Start of the Tokyu Den'enToshi line 
Town of young people
OmoteSando
38-48
0
460
centre of fashion
Shinjyuku
46-56
1
480
Subcentre of Tokyo 
most crowded place in Japan
Ebisu
40-50
1
420?
some bars for foreigners, I don't know much about here.
Akasaka
46-56
1
470
embassy town
Roppongi
53-63
2
460
where many foreigners gather. night clubs
Akihabara
64-74
1
490
notorious cyber shopping town
Kasumigaseki
50-60
1
460
government offices
Takadanobaba
47-57
1
?


Yokosuka
80-100
3
780
USA base
Hachioji
35-45
1
530
centre city of west suburban Tokyo
Natira Airport
150-
1or2
1500-4000
international airport
Haneda Airport
80-
2 or 3
1000
domestic (and Taiwan) airport
Your inquiry
 


 
If you would like to know a certain place, please ask me.
By Car
Near by Tomei Yokohama interchange of Tomei Holloway and Tokyo Institute of Technology Univ.

Just at the next building, there is a good convenience store. Supermarket Precce at MinamiMachida station is big. Supermarket Sanwa 15 min by walk is a big store which also sells cloths, furniture, appliances and pets.

There is a big shopping mall in front of MinamiMachida station. See Tokyu MinamiMachida Shopping Centre web page. This site has good English maps of around MinamiMachida. There also are two supermarket, precce and caroful(sp?).

Around the Machida station (4.5 km), department stores, shops, restaurants, schools and bars are there. I fortnightly go to a Machida library to borrow books, CD and videos for free (all resident can borrow them).

The next station, Tsukimino, now has a supermarket with 9 screens Cinema complex. That supermarket(Saty) is 15 mins walk from Tsukimino station.

Naruse Gymnasium (2 km) has a good excises room which all residents can use only by 100 yen per 80 min. Public tennis courts and play fields are available, too. Minami junior high's pool are opened to residents by 200 yen (1 km). If you prefer private sports gym, there are some in Aobadai, Nagatsuta, Chuo-Rinkan, Machida. It costs more or less 10,000 yen per month I heard.

Honestly, I don't recommend our flat to the person who has to commute to the very central Tokyo area at peak time. Commuting 1 hour on a train in the morning Tokyo is really tough. harder than gym excising (really). If you can make your work time to late side, it may be okay. Our former Australian flatmate was mainly working at Shibuya with avoiding peak time, Japanese mate Eiko worked at Ebisu.

But even around here, there are over million people living and consequently there are many shops and activities. So if you can set your working place near here, it'll be good lifestyle like mine.

YMCA at Sagami-ono has a intermediate Japanese (language) class. But it tends to be cancelled because of lack of students. 042-740-5501 (from outside of Japan, +81-42-740-5501). There also are some other Japanese classes held by local community. As far as I heard, Machida city and Aoba-ku of Yokohama-city have.
Contact Info
Please let me know your name, job (or how you will afford your rent), kind of visa, how long you are planning to stay (if possible).
When we make a deal, I will ask you your contact info for emergency,
Don't hesitate to ask anything, please!